With our booking page, find the right accomodation quickly and easily.
Contact us for advice in relocating to the Philippines.
My E-Book – Emigrate in the Philippines
In my e-book, you will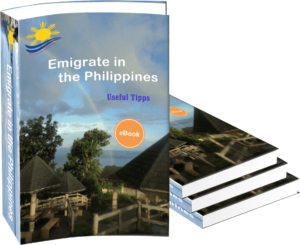 benefit a perfect preparation for a new start in the Philippines. It contains a significant steps to bring you closer to your dream and emigrate.
Learn from me and find your way to the Philippines!
great travel destinations on the Philippines
Puerto Galera is a soothing vision of shimmering seas surrounded by lush mountains. It is considered as one of the most beautiful and developed beach...
The life on the Philippines
Weather Philippines - Typhoon Philippines in comparison Weather Philippines - Taifun Philippines - The weather in the Philippines is characterized by the constant danger of...
Philippines Safety - To whom is the Philippines dangerous? Philippines Safety - The geographical situation exposes the Philippines to many different natural catastrophes. Tsunamis, earthquakes and...
MEET-THE-PHILIPPINES
Hello my name is Reylita, im a filipina and im fully responsible for this Blog and Website. The only problem is my english. While im learning german, its not always easy to also improve myself in this case. Anyway i try to give my best to explain to you everything as best as possible. Hope you enjoy!